JOIN US!
gamesnet.net
#thewastes


Beta 1.0



Windows


www.fileplanet.com


www.moddb.com


www.moddb.com



Linux


www.moddb.com

Beta 2.0



Windows


www.fileplanet.com


www.moddb.com


www.moddb.com


www.thewastes.de



Linux


www.fileplanet.com


www.fileplanet.com


www.moddb.com


www.thewastes.de

Beta 2.1 Update



Windows


www.fileplanet.com


www.fileplanet.com


www.moddb.com


www.moddb.com



Linux


www.moddb.com


www.thewastes.de


Wasterbot By Frank McNeil


"Wasted" Winamp Skin By Migu





139.62.180.92 (12)




Mapping FGD (WHL)


Mapping Wad (WHL)








*

The Wastes RC1.4 has been released. Most of the fixes are balance tweaks based on input from the team members and the community at large, so hopefully you guys will have more fun with the new weapon updates. The only major "fix" is for now 3rd person laser beams are removed, so for now network saturation problems are eliminated but mainly from feature removal. last but not least I do not intend for these releases to just be bugfixes. As I'm sure alot of you are aware this mod, while fun, cannot survive on Deathmatch alone. That is all I really want to say for now, and I hope the mod is stable and balanced enough now that I can work on adding now features and not refining old ones. Expect an important announcement very soon!


The Wastes RC1.3 has just been released. This release is half bugfixes, half balance tweaks. Speak your mind of the balance changes in the Feedback forums. Happy hunting guys!


The Wastes RC1.3 has just been released. This release is half bugfixes, half balance tweaks. Speak your mind of the balance changes in the Feedback forums. Happy hunting guys!


The Wastes RC1.2 is being uploading as we speak. Right now the 1.1 to 1.2 patch is online, which can be found here. I will update the side bar and download page when all files are done uploading. For server admins there is a linux version of RC1.2 which I will be uploading as well. Hopefully we can get some more servers for people to have fun on. Happy hunting guys, and remember to bring your geiger counters!


One of our great forum guys, Migu, has created an awesome TW inspired Winamp Skin!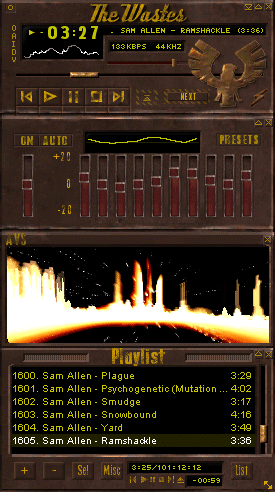 Click here to download it!

1.1 Patch is now online. This patch is my attempt to fix as many bugs I could in a weeks time without bringing in a whole slew of new ones :). The major rework done was the weapon selection which should be easier to use. Now I'm sure alot of you guys are anxious for more servers and I have good news. Next monday I'm gonna install linux on my machine here and get cracking on the linux version of The Wastes 1.1... stay tuned!


THE WASTES RC1: RELEASED!
I think this is the longest time there has ever been between news posts. But... Wasteland HL, after so effing long, is finally done! I am updating the download section as we speak and will be adding new mirrors as I upload the file. To be blunt; this probably isnt the WHL (or TW or whatever you wish to call it) you guys have been expecting. The release notes actually go in pretty big detail; but I suppose this was a long time coming. Its not that the build is buggy, I think i did an okay job of making it stable. It is just incomplete in spots, and makes the mod fairly rough around the edges. I will try to get a community update support thing going, whether it be a bug tracker or similar, and if there is a big splurge of input I may try to fix those bugs.

Onto the source code: I'm gonna try to pack up the code into a GPL form, to both be open source, and to protect the intellectual property that binds this mod together. I figure I would offer my code up as a learning experience so others can get ideas for their projects, but under GPL I do not have to worry about blatant stealing; or if there is, I'll give Stallman a call :) expect a GPL version of the source up later this week sometime, maybe not; it really depends on my time which is oh so limited.


Well, time to give a status update. First off, I want to sort of delay the Open Source for a bit. For those of you who don't know the team is planning to open source the project, but it won't happen just yet. I would like to open source the mod once RC1 is released however so the community can decide how they want to support the project; but I want a solid ground for you guys to play in the event that no one will continue the work.

The team needs sound artists and player modellers. These are the last 2 things required media wise for us to release that the current team can't fulfill on their own. Any applicants can simply email me and please provide reference material, preferably as a web link so I can download and review what you made. Sound artists will be tasked to finish up sounding the reload and firing sounds on the weaponry; so if you have done that work please show me an example of a reload sound at least on a weapon, if you wish to do player models I just would like to see a player model. Animations arent required as we will be using common animations across the board and those are almost done. If you wish to see what sounds are left to do check out this link. For player models we just want a decent variety of post apocalyptic warriors, whether inspired by post apoc media or your own creation.

EDIT: The forum post is unfortunately lost to time.



I feel this forum post explains better than my news post would.

EDIT: The forum post is unfortunately lost to time.



Time for another neighborhood friendly news post. We have reached a milestone in RC1, Absolutely all the weapons are done!!! Akimbos were finished this week with no major hiccups. From here I want to work on finalizing the VGUI and HUD to finish up another major part of the game experience. I know some of you guys want some screenshots because we havent showed any in quite a while. This weekend I will be at a lan in Ohio and will be playtesting the game with roughly 20 other people, and will make a slew of screenshots for you guys. Then after the new HUD is complete i will release yet another batch of screenshots for everyone to see.

We as a development team have also made a decision. We have set an internal release date, just like a major game house. Instead of saying "when its done" we will have RC1 complete by this date, wether feature complete or not, so we may be dropping a few features in favor of implementing them in another patch. Nothing too major, but be noted that Mixed akimbo weapons will NOT be making it in RC1, but they might make a comeback in a patch. While I dont feel too comfortable telling you guys the release timeframe be noted it will be before the snow melts off the ground this winter.



After a bout of not being able to log into the webspace, I'm finally able to get back on! Note the forums are back, so hop back on them!



If you notice, the forums are down; I figure it's time to explain a few things about it.

As most of you know, Salvation was our former webmaster until he basically went MIA a few months back and we haven't heard much of him since. He set up most of this site, including our beloved forums running vBulletin. It seems he didnt exactly obtain vBulletin through proper channels, like PAYING the company to use the software. Instead, he stole a license to bring our forums up under the software. I recently got an email from the company explaining just that, and I am very disappointed to say the least. I have disabled the forums and am awaiting gamespy personell to send me account information so I can remove the infringing files off the webserver and put up a proper bulletin board system. Hopefully that explains the message you get trying to log into the forums.



Ahh, I see I almost surpassed the 2 month timespan between news posts. Alot of work has been going on. VGUI is nearing completion, and alot of the spectator code is being worked on and tweaked out. I will try to put in the 2.3 SDK code for spectators (I'm fairly sure its the same coolass spectator code that CS and DoD use for spectating matches) sometime soon.

This news posts has some good news, and some bad news. For starters, I'm going to college this Thursday! So this weekend has been occupying myself packing up boxes and getting ready to move out on Tuesday. I'm sure I'll have fun out of the house and get a little piece of paper in 2 years saying I am now a junior programmer. The bad news is, until I get my first paycheck (and probably a week or two after that), I will be without internet for the most part. I can browse the forums during my hour break at school, but otherwise I cant really have a presence online. I will STILL code my butt off while I'm gone, so do not worry please. I made a thread on the forums about this if you wanna talk to me shortly before I leave or anything of that nature.

What news post would be complete without pics! Maso has been working on another map, this time called tw_ramshackle, and while it is still a bit away from the testing stage, he did show me some current pics of the map in progress, and I am already anticipating this map. Sadly I won't be able to play it for the next long while. :(



Haven't had a bit of a news update in a while, I even got an email a few days ago from No Mutants Allowed, asking what was going on with the mod, etc. Well, we aren't dead or even slowing down. If anything the lack of news posts means that I am too busy to worry about it, but I'm taking a code break today(more like the whips of work are on break, and that means so am I!). I guess the best example of "progress" I can give you is that one of the main systems of the mod should be done soon, Weapons!! A few days ago i coded up the melee weapons, so all that is left is Akimbo weapons before i start beating the playtesters to find all the bugs while i work on the HUD. After that, I will most likely move on to the new game modes we have planned, and when the team finalizes the game modes for RC1, we will let everyone else know. We already have about 6 game modes in addition to deathmatch that I believe will definitely make it in, although only 3 of them require custom maps. The other 3 are still based around a deathmatch level with gameplay variance. The good part about that is we won't need 50 maps just to make RC1, some of the maps can push double/triple duty as needed, allowing us to concentrate on finally getting a game out to you guys. Once the new HUD is complete expect a new batch of screenshots to be paraded around. Just to give you guys a timeframe the new HUD is about 25% complete I'd say.

Some people have asked me why they cant use some of the new weapons on the website or why they cant use new models. Im sure most of the people that browse our website know about it but simply put, All the artwork has been redesigned for RC1, and I am recoding the code base. Let's just say when RC1 comes out it will be a fresh mod in visuals and gameplay, while keeping the original Wasteland core gameplay ideals.

Again, some people know about this, but Kruddman is no longer on our team. I don't wish to indulge into the details because simply put, you don't want to know. But his presence on our mod still exists, the website you are reading was designed by his creativity, he did alot of artwork for this project and while the circumstances are long and drawn out, His work will be appreciated.



The already talented Wasteland Productions artist squad is looking for some fresh new faces.
Job Requirements:



Must be skilled with the use of mainstream artist programs such as Photoshop or Paint Shop Pro.


Have experience with the from-scratch creation of weapon skins (No photoskins).


Be willing to work with a dedicated and talented team of artists, modellers, animators, programmers, and testers.


Able to take constructive criticism about their work, and a willingness to learn from already established team artists.


No prior game work required!

Any and all interested please email your resume here, or if prefered fax to 972-390-2990.


Wow, the playtests have been going great. There isnt a single showstopper bug, and the code is progressing at an amazingly fast rate thanks to our fabulous programmer-monkey Gage. For your viewing enjoyment we have a few shots from last weeks playtest. Note the dusty fog, new laser sight, and... enough of me, just take a look!


Well right after Maso's introduction comes [DR]Hugo's! he will be doing player animations for us as we move closer and closer to RC1. He is a quick and mean animator with alot of skill under his belt so if you see him on the forums or IRC say hi!

I would like everyone to say hi to our newest member, Maso :D! He will be making some wasted lands for your tribal offspring to run around in. Just be sure to bring a Flak jacket!

Here we go, some good ol' newsworthy media. Some of the new maps to be in RC1 have decided to show their face to the public, and you get to see some screenshots of what is currently in production! Here are some of the presentation images, and the creators behind them.


tw_bunker.bsp
Edward "Aufo" Fuller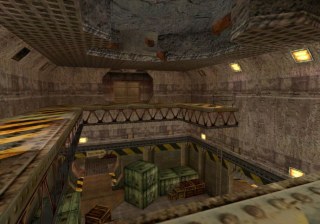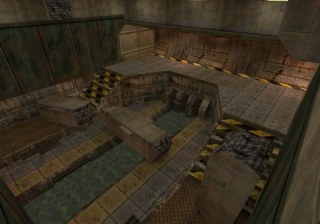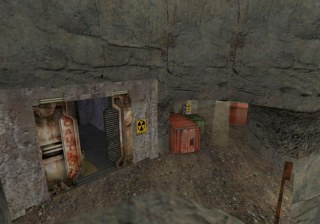 tw_dune.bsp
Ted "The Postman" Anderson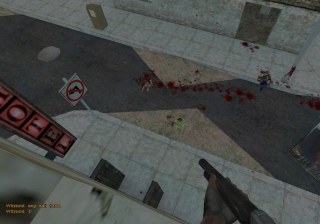 tw_plague.bsp
Ted "The Postman" Anderson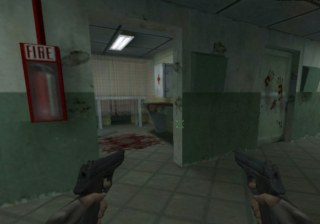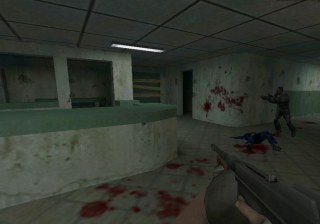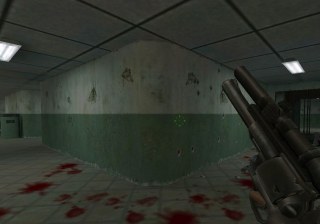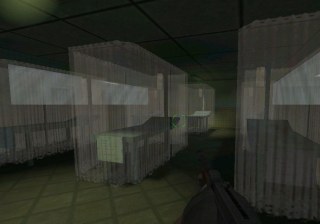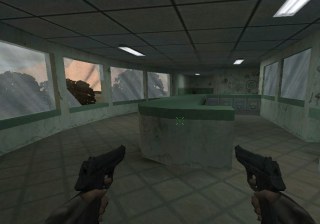 tw_yard.bsp
Edward "Aufo" Fuller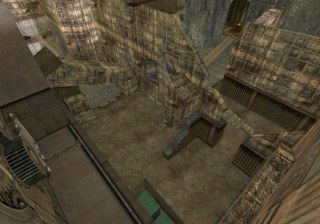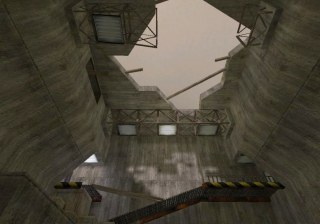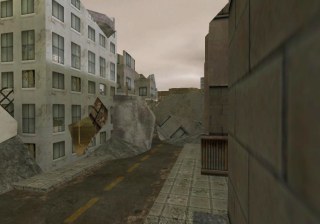 Think of this as a bit of a contest, the winner will get a signed box of Tony Hawk 3 for the PC from yours truly. We need someone to do an updated version of Theodus and Idaho. Get your motors running and make some goodies! In a matter of a month we'll see which ones we as a team like the best and the winner (in the case of a seperate skinner/modeler team, we'll offer up a secondary prize for the skinner, most likely another box of Tony Hawk 3 for the PC) will get his name in the credits, his characters in the game and the afore mentioned prizes! Feel free to post progress pics! Have fun!
Wanna see somethin' neat? Gage's new cvar cl_shellcase_lifetime!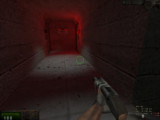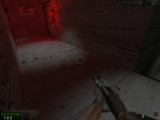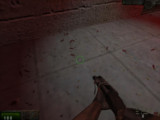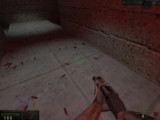 The Wastes has some new faces! We have recently recruited two count them TWO new sound artists into our ranks. One is the highy skilled assassin, Mord, who you may have heard of or seen working on a few other mods in recent history. The other is a mighty warrior from the depths of Istanbul, Phiesope. Who we once knew in ancient times but was deemed MIA after a brief skirmish during the time of Wasteland Half-Life. I say ahoy mateys welcome aboard. Lemme tell you when I hear the sounds by these fellow artists the smile on my face practically decapitates me. Wouldn't that be pleasant!
There are some brand new renders on the arsenal page for all the weapons thanks to Trappey. Check em out!

We have completed our new G11 Assault rifle. Modeled by Trappey and skinned by me. The render is from def. Check'er out.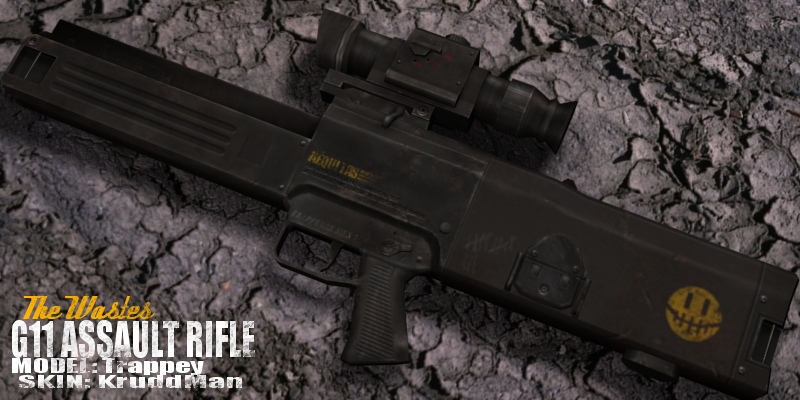 You can also see more renders of it in arsenal page.
The Wastes needs you! We are in need of a talented sound artist. Capable of high quality sound effects. Think the movie Last Man Standing and the game Full Throttle. Heavy metal kinda stuff!

If you're interested please contact me at alexyaowhat@gmail.com.

If you've got some good stuff the team will review it and get back to you.
Your Likeness in The Wastes!

I'm looking for a few good men and women. Some of my character models lack faces! The face is the real element of the character. The whole attitude of him/her. If you think you've got a perfect face for a rough and tough wasteland warrior send me a high quality photograph of your face from the front with quality lighting. If I can find a place for it on a character and the photo is good enough quality your face will be shot at by hundreds of people! Now doesn't that sound appealing?!


Send your entries here: alexyaowhat@gmail.com
or contact me on ICQ: 84496066

Requirements: Over 18 years old. Mainly for cosmetic reasons. Image sizes must remain under 600kb if emailed. If you upload your face to a location and send the URL to me it can be any size you want.


I suggest zipping the image file so it can be larger size than file sent.

You may submit more than one image. Different facial expressions. In fact it'd be appreciated.


By submitting your face you give The Wastes team the right to use your likeness. It doesn't mean we've stolen your soul or anything. It just means we can use and modify the image our discretion.


Just thought I'd let you know that the arsenal page has been updated with some nice little renders from Trappey.
Things are going pretty slow at the moment. Gage is working on more than one project. He will have more time for The Wastes in a little bit.

Some good news is I am almost finished with the new Mclean model/skin that you can see a preview of here.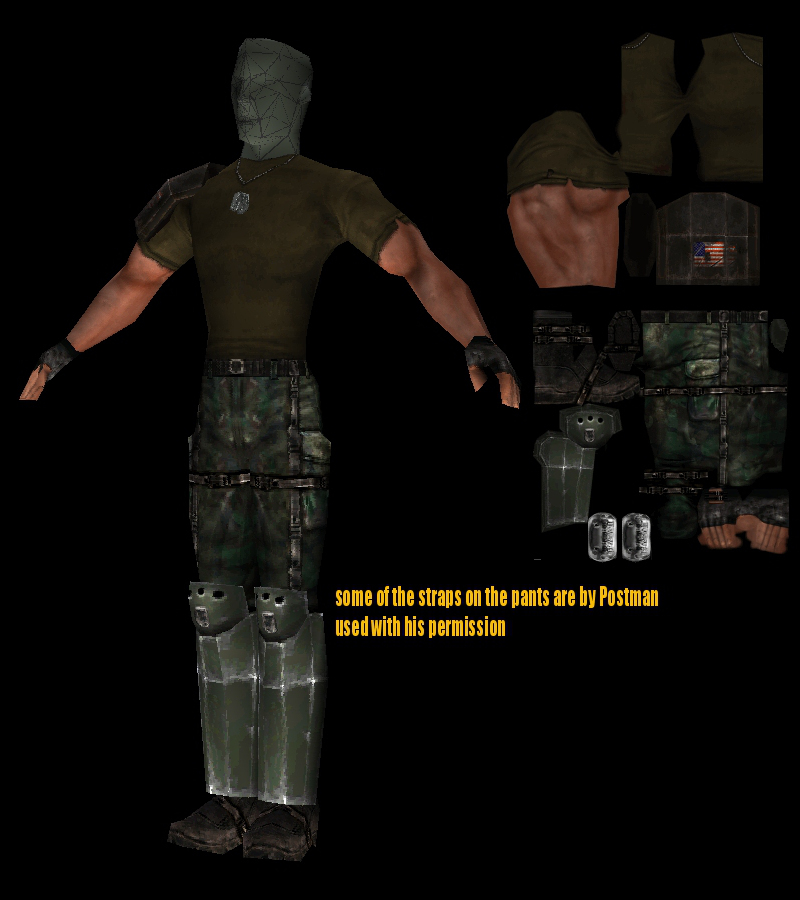 That's it for now.

Rob has made another fantastic wallpaper for you to use. It's very kick ass and it will also be part of the new banner you may see floating around on other Planet Half-Life sites.

If you're worried about the status of the code meter... don't be. Things are looking more up than down than ever. That's a lot of thans. We have a new coder added to our ranks: Gage. He's moved the code along fast already.

Kwarismian (Blonde) just got back from some R&R, hopefully he will resume a coding position.

Welcome to the new website of The Wastes. We have been taken in by Planet Half-Life, and have made some changes to our website. We have added many new mirrors to the downloads section of the page, including locations at Fileplanet and TheWastes.de. For those of you new to The Wastes, we released beta 2 back in December 2000 under the name Wasteland Half-Life. Shortly after we released beta 2.1, a small bug fix patch. You can find all those files in the downloads section. There is currently only one server that is up 24/7, so if you are a server admin looking to run a Wasteland server, I'm sure there will be many players out there greatful for your contribution to our community.

In other news, we have found a winner for our story line contest, Reavus Dar. You can view his entry in the concept section of our website. There are 45 screenshots in the gallery section showing off last months playtest of RC1. To celebrate our new hosting we have three images for you. One showing off our new Max model, one showing our ingame menu, and another showing Dieter.



We also have a very sweet looking promotional image created by the talented Rob. Feel free to download it and use it as your desktop wallpaper. We have created it in three sizes, 800x600, 1024x768 and 1280x1024.

A lot of the screenshots that we've been showing lately are using the fugly old sawed off shotgun model. So here are a couple showing the new and improved one, enjoy!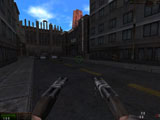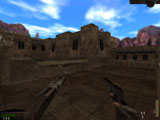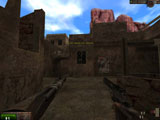 FN Fal revamped, team adjusted intensively, update in the crew section pending. Sexellent new maps, lots of little goodies below. Not much else to say really, but we -are- rolling.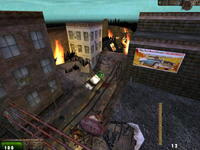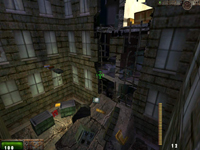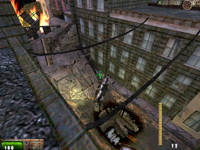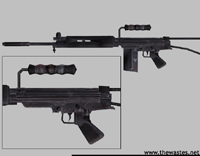 Another revamp of the desert eagle, increasing the sexiness up quite a few notches one might say. Picture below, with ANOTHER revamp of the weapons section yet to come. We've added in a number of little things, such as, say, VGUI configurations and whatnot. Also added a speech icon above typing players a la quake 3 and their ilk, and have begun rolling on a number of new teamplay maps thanks to some fine volunteers. New textures sets rolling, with an excellent new wad in the works. Also, we are going through and flat-out swapping some old textures with renovated ones, which will adjust currently existing maps-- this is a wad we may release prior to Beta 3. Some new player anims making their way into our models, including a few fun extras, such as a suicide anim. Stay tuned.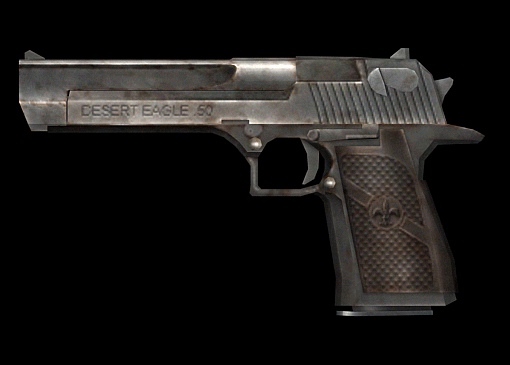 I've only got a brief moment to update, so I'll be concise. Kruddman's whipping up new tribesmen which are quite nice, there's a new character waiting to pop up, the new sawedoff model is done and being animated (And for those keen on the 'proper' apocalyptic feel that we're supposedly lacking lately, you'll love the new sawedoff), and some maps are rolling nicely. Code is progressing, and the pineapple grenade is now up in the weapons page.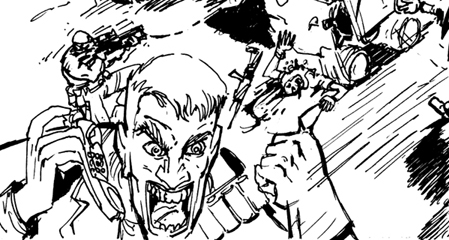 The neverending quest of quality continues, with the molotov remodelled as well as forthcoming improvements to the pipebomb and melee weapons. Pineapple grenade has been finished, just isn't up in the weapons section as of yet pending some final tweaks and adjustments. Should be putting up a new page of screenshots soon provided time plays out properly.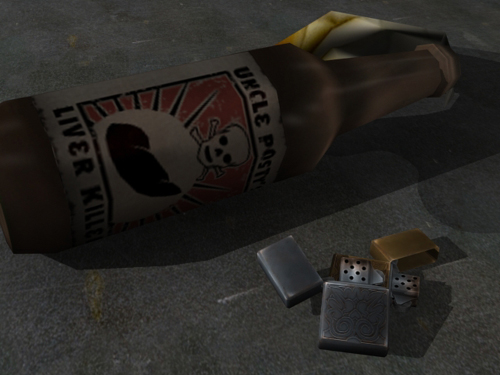 Some of you would not believe the kind of things we're suddenly accomplishing, as a great many of us can't as of yet. Blonde has completed a mapper's toolbox of new entities and upgrades to old entities the likes of which have never been seen in a mod, and it's absolutely awesome. While I can't garnish too many details for public consumption as of yet, I will give you this example: Imagine firing up a control panel in a base, and gaining control of four ceiling-mounted sentry guns simultaneously...

Conceptualization, modelling, and animating continues to shine relentlessly. We've now geared it fully so that any weapon with the appropriate capabilities (i.e. having a buttstock) will be automatically raised and braced against your shoulder when crouching, to help further the visualization that you are indeed aiming better. Note that the accuracy will, obviously, be upped moreso for weapons that can actually brace then those that cannot.

Remodelled hunting rifle is now available to look over in the arsenal section, and soon the new SMG will be as well. Keep the faith folks; we're nearing the last leg of our preparations, and then the bombs drop. Next build begins our teamplay test phase, and when we're all said and done with that, beta 3 comes out.



Heads up from the wastes; In our ever vigilant quest for immersive combat and common-sense goodies, we're now prepping various weapons, such as the pump-action shotgun, so that when one crouches or aims one actually raises & braces their buttstock against ones shoulder, thus actually steadying their shot. Hard to visualize? Picture normal firing as from the hip. Now imagine in-game on a whim bringing it up to shoulder-level for a more accurate and less recoil shot. Voila. I'm sure you gun enthusiasts will love it.

Nirrad is hard at work on technical drawings for character armor designs. We're going all-out hardcore with this, and what it basically means is that the number of player models is tripled; Three for each character to represent light, medium, and heavily-armored conditions. Bon apetit my fair wastelanders, because it's looking damn awesome. Check out Gustavo's light gear!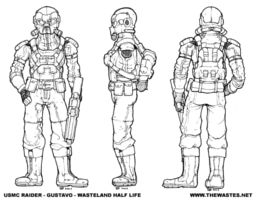 Oh, and I updated the Art De Wastes section quite a bit. Check out more sexiness within ;)



Excellent news from the warfront! With a kneejerkingly leap of progress, we've made up several weeks of lost time with code and are now playing with fully functional beta 3 weaponry-- something which was largely held off for a long time now. With the Tommygun and the other toys in-play, tweaking can resume, hence the re-initialization of the debugging percentage bar. I'd also like to take this time to welcome Darrin Michelson aboard as our new character\storyboard artist. A little tidbit of him is visible to the right of this post, with Gustavo leapin' about. Expect screens soon of Gaist owning the living christ out of the rest of the dev team with the tommygun.




What you're looking at is a munitions crate for beta 3. Essentially, a configurable mapper entity that will dispense destructive goodness under many contexts; Little station or two in some DM maps, or a team's stockpile in an objective map, bringing up an inventory of what your chummers have got. If you click on the picture, you can also pop yourself an avi of it animated *grins*. This is the first in a large series of quality objective models, and we'll have oodles of stuff to interact with and destroy.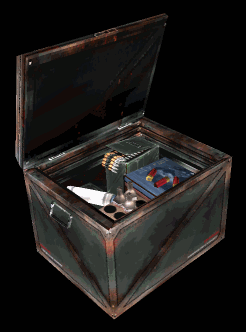 Heavy duty changes to the weapons and cast pages, with some rather sexy renders available for the vast majority of the weapons, and a good number of new characters showing their faces. The mossberg has been given a heavy duty facelift, and the jackhammer is now being remodeled to reflect 'changing times' and whatnot. Be sure to tip your hat to the boys over at The Backburner, Nebula's a great chummer.

By the way, we're currently scouting for an accomplished sound guy as well as possibly one more concept artist; Interested applicants should drop me a line at gaist@wastelandhalflife.com.

EDIT: The image that was here wasn't saved.



We are now weapon locked; No additional weapons will be added to the lineup until perchance after Beta 3 has been out for a while. Additionally, quite a bit of reorganizing is going on, so bare with us during slumps. I've got two lovely goodies courtesy of KilluH for you folks to oogle today, and will be adding the final beta 3 armament to the weapons page shortly. *salute*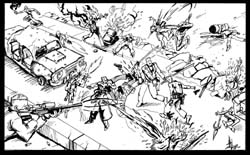 EDIT: There was another image here but unfortunately it wasn't saved.



Playtesting, firefighting, molotov chucking, model making, animating, craziness, all of it! Posty's on a temporary hiatus while he moves his living quarters, but it looks like we've got another asskicking addition to the crew, a new player modeller, elvis! By the time posty gets back, you should have some rather drool-worthy additions to the cast of Wasteland.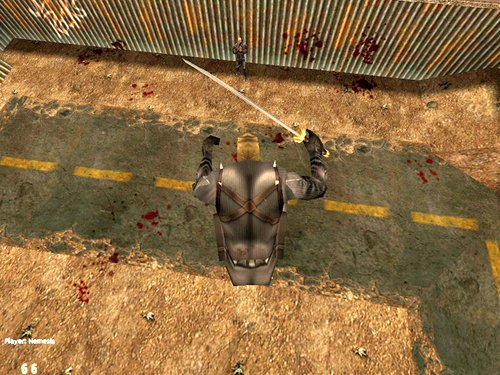 Excellent things going on, folks! We've received the objective code from Nighthawk, we've implemented some lovely material-based bulletholes, we've got a ton of maps being retextured now that the new wad is more readily accessible, and we've got some rather sexy work going on as far as the inclusion of rusty tanks and artillery and turrets into select maps, for added armageddon-worthy glee. ;)

I'd like to take a moment to acknowledge, with much sadness, that Douglas Adams (author of the Hitchiker's guide to the galaxy, among others) died on friday, at age 49, from a heart attack. He will be missed.

Before I go, we're now in cahoots with the fine folks at The Backburner so give 'em a gander, and expect some great exclusive material there soon. :)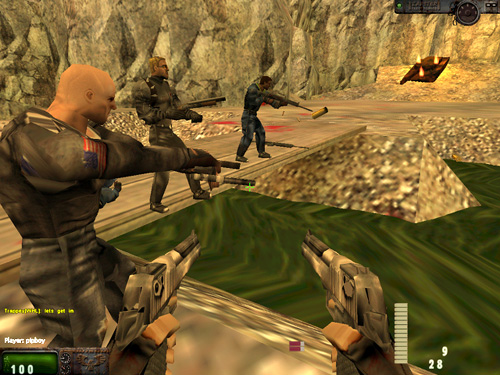 Behold! The power of update! New screenshots up, 45 of the friggin things, updated Downloads page, updated and tweaked the rest of the site, yet another complete re-design coming soon courtesy of Gaist & Posty Inc. wrecking crew. Newsletter private forum is up now, testing is rolling again, and we've got a big fountain shaped like wisconsin...or something. Nonetheless, eat up folks.

Grab the AWESOME new wad here.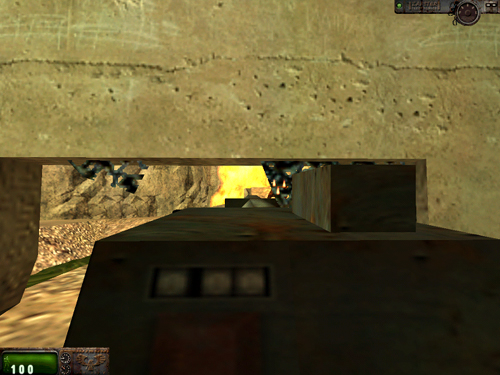 Uh oh. All hail Trappey!







EDIT: The image of the power armor unfortunately did not save. :(



Not power armor.







EDIT: The image of the trashbot unfortunately did not save. :(



You may now allow your eyes to burst from goodness. Thanks. Trappey + Posty = Gaistie's angels, sans breasts.

EDIT: The image that was supposed to be here is gone, but that makes this post even funnier. I believe the weapon was supposed to be the Winchester 1887, which currently is in TW and in the arsenal section. :)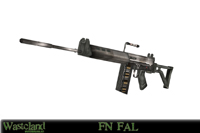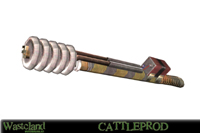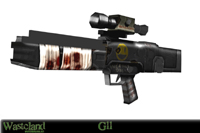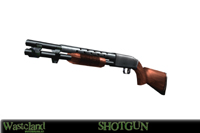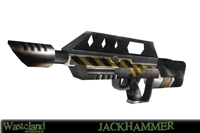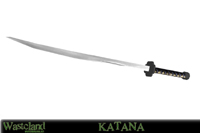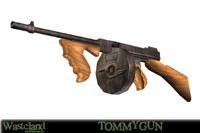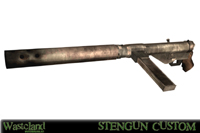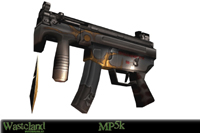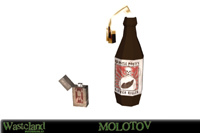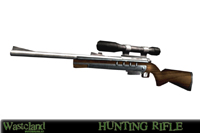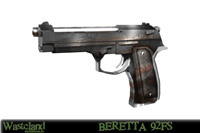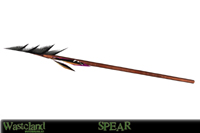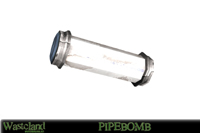 EDIT: Some of the images did not save, but at least most of them did. :)



Happy easter. We're back on the ball again; Armor's up now for two out of the three sides, so check it out. Pictured below for those who just want to oogle, more extensive details are in the actual section.

EDIT: The WIP images of the armor are gone since Web Archive failed to save them. However, the final images have been preserved and are available to see in the arsenal section.



Yet again we've managed to whip up some more goodness into our neverending quest for immerseful details. Now every character has their own style of fighting, most visible through their usage of akimbo weapons-- while the Wanderer may elect to fire from the hip during a gunfight, you'll find dieter contently shooting hand over hand for that extra bit of nastiness. What does this mean? It means unique animations per character, ladies and gents. Tasty stuff. See this thread in our forums for dieter in action.

The akimbo code has been improved drastically from what you saw in beta 1, and it shows quite evidently when you're playing. Gone are the times when you scroll through weapons to find what you want-- now it's a matter of a keystroke to alternate your armaments. Be vultures hovering over the forums, for the wastes have plenty of juicy carrion to be found there. Check out Clan Zone for some of the best Wasteland material we've released-- they've got the renderings of our player models up.

EDIT: The forum thread cannot be retrieved, sorry :( Also something else worth mentioning is that there is a six month silence after this post. Not sure if that is Web Archive's fault or if the team was literally silent that entire time.



The Featured Pic this time is of the 6th player model, McLean. He'll be rounding off the characters for Beta 2 along with Max, the Tribal, the Vault Dweller, Big Tony, and Dieter. Also, the vote's been updated. This time it concerns your favorite weapons in WHL and your favorite play styles!

As for Bartertown, it's been held up due to server problems where I work, and indeed, you might notice the site moving a bit sluggish. It's all temporary, we're moving the site itself to a roomier home. Happy Fragging!



Our subsidary sites Waystation and Barter Town are coming along quite nicely at this point-- and for all of those out there wishing we'd update this site more, or requesting we have more pictures here, Waystation shall be the answer to your cries :) From what is done so far, it's looking absolutely killer, and we're sure you'll all find it quite satisfying! Beta 2 has been progressing well, with a flurry of maps, models, sounds, and sprites; Refinement, additions, and tweaking, oh my! Regretfully, we won't be joining the rest of the mod scene in releasing on Monday, but rest assured, we're taking our time to ensure there aren't any show stopping bugs that'd ruin your experience in the wasteland.



Great news wastelanders! Those four net-games servers that were fast but nobody could connect to, and thus couldn't play the mod? We fixed them! That's right, they are now playable and ready to go! Our primary servers are now highlighted in bold on the server list located in the left column, check em out, and enjoy!

We'd like to thank you all for your patience in getting things remedied, and hope that now these servers are available properly that you should be able to play unhindered. Good luck, and enjoy!



Good news from the wastes! We have managed to bring together a smashing new damage engine, built from scratch, and I must say that it's all looking very kickass! We're currently experimenting with a number of game scenarios to see which suites us best, from domination to assault to hold the petrol. Let us know your thoughts on the forums! In other news...

The Wasteland team is seeking talented webmasters interested in running and maintaining one of two sub-sites for the Wasteland mod. Applicants must be experienced with HTML and script procedures, and have an interest in dedicated coverage and thoroughness. Incentives include testing privaleges of future releases, advanced information, and the glory that is having a much-visited site.

The following two locales are available for application:

Barter Town (btown.wastelandhalflife.com)


Skin & Model replacements!


Tutorials for the above.


Independent forums.


Large cache of pre-done graphics to work with.

Wasteland Waystation (waystation.wastelandhalflife.com)


Comprehensive News & Information site!


Weapon & Map Strategies.


Independent Forums.


Flexible previewing, featuring, columbs, mailbag, etc.

The above two positions, once established, will receive independent domain names, and full endorsement from both the Wasteland development team and our associated partners. Only the serious need apply.

If interested, send a brief description of your ideas and\or concepts you would like to accomplish, the site you are interested in taking on, and a zip containing example work you have done in the past (This can include HTML, Images, Layouts, et cetera) to gaist@wastelandhalflife.com with the subject line "Webmaster Inquiry"



Cry havoc! We hath received SDK 2.0, and are now working full blast to port to it and notch up Beta 2. Rejoice, for it shall be gloriously vast, and better still, should be available within a short while of the Valve patch release! That said, make your thoughts known on the forums-- We'd like to hear just what you think about this development :)



Do not lose faith! We are far, far from dead. Progress has been booming, quite frankly, we've just not been updating as frequently as we'd like to. That shall change however, and plenty of development pics will soon be available on many news sites :) Check around our forums, folks! You'd be surprised just how much material we show there, usually a lot earlier then when it eventually 'hits the streets'! Enjoy the new pic, a bit of a teaser ;)



We have an interview up on halflife.net too! You can check it out at here.



Wasteland 1.2 has been upgraded to the status of Beta 2. The reason? Moreso then mere bugfixes, we've completely overhauled the HUD, added in TEAMPLAY, and polished up some new tools of destruction for ya :) Sit back are relax on the forums-- The next wave of atomics will hit fairly soon. On that note, we are seeking more folks interested in running dedicated servers, especially now that it is guaranteed NOT to crash eternity for this mod, finally get it, and then not be able to play it at will. I think it sucks as much as you guys do, but this is one thing we can influence. When you go to bed, just set your PC up as a server, it might be laggier than the average OC-3, yeah, but it's an opportunity for others to play and spread the on ya! With what we've done with the code, not only does it run smoother yet, but more effectively as well! If all goes as planned, you should see additional stunts working and ready. We've also got some new killing grounds for you to wreak havoc on, such as wl_shaft, wl_villa, and wl_vats. Your wait shall end soon enough :)



We're on Planet Half-Life! Wasteland has been named Mod of the Week, plus there's a rather wordy interview with me, the Admiral. I'd really like to apologize for the lack of servers. It's not fair to the team, working so hard and then see people unable to play with this game we've all shared in. It's hard for you guys, who've waited an eternity for this mod, finally get it, and then not be able to play it at will. I think it sucks as much as you guys do, but this is one thing we can influence. When you go to bed, just set your PC up as a server, it might be laggier than the average OC-3, yeah, but it's an opportunity for others to play and spread the word about how cool this mod is! Plus, I'll be updating the votes more regularly now - there are some rather important questions asked there so make your vote count!



Beta 1.2 is progressing well - to use an automotive analogy, it was more effective to just replace the transmission than to try and fix it. That's why we're taking a little longer, but you'll like what we've done. NesQuik's made some HUD changes, including an armor display and a new health meter. The whole game should run smoother, and be 99% bug-free. Oh, yes, weapons pics...development shots of the handcannon and the spear...
The Handcannon
The Spear - (the spear isn't 100% definite for beta 1.2, but rest assured it'll be included as soon as possible)

EDIT: Web Archive failed to save the images, so unfortunately you'll have to use your imagination to figure out what these looked like...



Short update: We've taken on some new help, lured by the WHL's sudden publicity. I'd like to thank Darkzrain for stepping in and debugging Beta 1.0 after the release Thursday, and give a warm welcome to NesQuik, who will be taking over as the full-time WHL programmer. From what I've seen so far, the next update will be a LOT more than a simple bug fix. Here's a tidbit - the Handcannon will be making an appearance in the next version! It fires high-velocity rifle bullets and will ruin anyone's day...

Next, a word about those nagging BUGS. We've narrowed them down to "wierd resolution problems", "funky software mode problems", "cranky Linux ports", and "sorry, it's just your particular setup" bugs. A quick checklist to minimize crashes and unpleasantness:



Ensure your resolution is 640x480 or greater! WHL's sprites don't work right or at all with resolutions less than 640x480!


Make sure that mp_weaponstay is OFF! Otherwise you'll be unable to drop weapons, and akimbo pistols won't equip properly.


The liblist.gam SHOULD have the line: gamedll_linux "dlls/mp_i386.so" underneath the gamedll line. I'd keep one file with and one without this line until everyone switches over, otherwise you won't be let in. BUT, this should solve some Linux problems, and it will be corrected for the next release.



We've found the source of several of the crash bugs. Two of the biggest causes seem to be sprites and the empty weapons disappearing when they are dropped. We are working on fixing these as I speak, so hold tight. The problem with the sprites seems to be manifesting itself in software rendering mode as well as lower resolutions. We'll try to get this patch out as soon as we can, sorry for all the problems that this has been causing.



OVERFLOWS!

IMPORTANT! Set your fps_modem and fps_lan to 60 at most! It is a main contributor to server crashes. WOW! The response has been amazingly positive and overwhelming! Apparently quite a few of you were waiting for this mod, and I'm glad that so many of you liked it! I do some concerns I have to pass on though.



Overflow Errors: The overflows many of you experienced last night were probably due to the pretty, but processing-expensive bullet effects. We've got it licked now and present a BETA 1.01 upgrade, available from the Downloads page! Oh, this also fixes two incorrectly mixed sounds as well as making empty dropped weapons disappear.


Armor: The kevlar vest DOES work, it just doesn't give you armor "points". Instead, it works by reducing damage by a set multiplier when you're shot in the chest or abdomen. For the beta, kevlar lasts until you die.


Teamplay: I STRONGLY suggest against setting up a Teamplay server - We were originally planning to include basic teamplay, until we found that the new damage system didn't recognize the difference between "friend" and "enemy". If there's no option for FF, then the sheer amount of retaliation for simple missed shots that hit a teammate will degenerate into Deathmatch anyway. So, I made a decision to leave Teams out until we could do it right. What this means for you, the server op, is that you might not be able to set mp_teamplay back to 0. It was a wierd bug we learned about last night, but the solution is to go into HL and start a listen server without Teamplay, then restart the dedicated. It should work then.

Again, I'd like to thank all of you for making these past 2 days a wonderful reward for the months of work we spent on WHL. Keep watching here to keep up to date on WHL's status! For a list of bugs and their progress, check out the WHL bug report.

UPDATE: The Mapping .FGD is now available! Grab it!



LINUX!

Linux port is done, and will be available for download soon, so sit tight! Also, there was a bug in the release version of wl_pits-- Head to the downloads page to get the proper one!



IT'S OUT!!!!!

Wasteland Half-Life Beta 1.0 (The Demo) is finally done!!! Click on the "Dloads" link to the left to find the closest, fastest, mirror site for you!

As we get dedicated servers, we'll be posting the IP addresses of the ones we know about on the left sidebar under the vote area.

Thanks go out to you guys, the real fans, checking the forums daily, drooling over every drop of WHL-related info you could get out of us these long 8 months. Well, your wait is over!!! Go play it!!!

AND... If you're still here, Team WHL (at least those who aren't sick with tonsilitis) will be hanging around on IRC tomorrow, 4/13/00, at 8pm EST. Come chat with us on gamesnet on channel #wasteland.



We are awaiting one final sound update and that's it, kiddies. We're doing some major juggling here, trying to coordinate mirror sites, dedicated servers, and still making sure the game is going to be tight. Here's our projected schedule:



Tuesday: Bombard the news sites and let everyone know there's blood in the water now.


Wednesday: Finish installer, run final tests, finalize mirror sites (I like that word "final").


Thursday-Sunday: I have to be honest with you guys. This is our grace period. If something goes awry, we've got the extra time to fix it and still be on schedule. YES, that means you might get WHL early. But it's a BIG -might-.


MUTANT MONDAY: As Bruce Campbell says, "Come get some!"


Wednesday: Linux port release date for all you people running servers!

With this good news comes some sad news as well. Gaist, who's been the Number Two to my Dr. Evil since this whole mess started, who at times has stopped ME from quitting, has been hit hard by Real Life. I'm not going to recount the details, it's his own business - I'm taking a chance as it is writing this much. He's been a true friend through all this mess, and I think he'd feel a little better if you guys could just do the little you can for him. Stay with us, make sure that when Wasteland gets released all this work won't go unheard, unseen, and unsung.



The site has undergone a lot of reconstruction, content-wise if not visually. Basically, I've gone and removed content that is not directly related to the first release. I've added a quick FAQ to the About section as well that details some common questions and their current answers. To restate more simply, what you see on this website is what you can use in the game.

Thanks go to those of you who have stuck with us, and rejoice all you just joining our ranks now, the first public release is coming...

Look for the Player ID system on these awesome screens!

From left to right:
1. THAT is a big door
2. A Saturday afternoon plinking...
3. Shotgun vs. MP-5K
4. This is why you don't wanna piss off Gaist
5. Another victim of senseless (and caseless) violence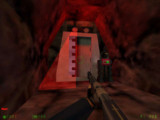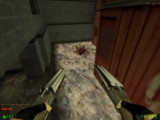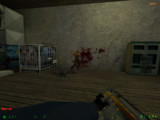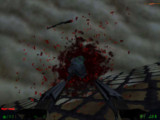 All the akimbo weapons available for the demo are now coded, modeled, and animated. Just a few more things to do here and there and the models will be set. We've got quite a few mappers slaving away to provide you with nice places to desecrate with blood and gunfire as well.

And now a word from the Pibb... "snarrrrjjrl grahkayk prybdsokk!"

In English, that means that Mr. Pibb was glad that I got off my lazy ass and got a poll for him to spy on-er, survey WHL fans. You should be glad too, because if Pibby-boy decided to eat my brains like he said he was going to, I wouldn't be getting Wasteland done...

EDIT: The poll couldn't be saved so above part of the post references something that doesn't exist.